http://www.iphonelife.com/promotions/itunes-app-gift-notes-now-live
iTunes App 'Gift Notes' now live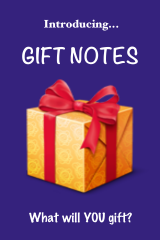 Press Release: Gift Notes for iPhone App
August 19, 2012
Surprise your friends, family and loved ones with a custom Gift Note
Birmingham, UK — James Temperley the developer of Gift Notes today announced its release on the iTunes app store. The Gift Notes iPhone app allows users to create customised notes which they can send to friends, family and loved ones, stating a 'gift' which they want to give them. The free basic version of the app gives access to five popular templates of 'A Kiss, A Hug, A Celebratory Drink, Coffee & Cake or Breakfast in Bed' which the user can then send to their chosen recipient. The full version of the app gives access to additional templates and also a Freestyle note, where the user can use their imagination to put their own wording for the gift being made and select from a number of backgrounds.
Once the Gift Note has been created, the user can send it direct to their chosen recipient, save it as a picture file, or if they want to make a public declaration, post the Gift Note direct to their Twitter or Facebook accounts.
The Gift Notes app is simple and easy to use and gives everyone the opportunity to send something special to the important people in their life, from the promise of a hug or a kiss to someone who is far away, the promise of a celebratory drink for birthday's or exam passes, or even the promise to make their partner breakfast in bed!
"The great thing about this app is that the user can use their imagination to make whatever gift they can think of and most importantly the gift doesn't have to cost anything to provide, but could mean a lot to the person receiving it, we have already received other suggestions for templates such as 'a night of baby-sitting', or 'cleaning the car'. It is a great way for people who may not have the funds to buy a gift or want to give something personal and unique. I look forward to seeing the feedback from the users and the gifts they have come up with!" said developer James Temperley
Pricing & Availability
Gift Notes for iPhone is available in the iTunes App Store today. The basic version is available for free, with the full version available via in app purchase, at a current price of only 69p.
at:
http://itunes.apple.com/us/app/gift-notes/id549458588?mt=8&ign-mpt=uo%3D2